WOODWORKING FOR KINDERS

Download Kindergarten Brochure
Woodworking. Just the mere word strikes fear in the heart of many of the most competent of caregivers, and conjures up images of a child approaching us, crying, with a bleeding finger, or a child hitting another in the head with a hammer.
It may not seem obvious, but woodwork is a perfect activity where boys and girls from age three can learn effectively.
Benefits include physical development, (as muscles become stronger when children vary the force they use) and the development of hand-eye coordination. Fine motor control is needed to hold nails in place.
Personal, social and emotional development is supported as children demonstrate deep levels of involvement when undertaking woodwork: perhaps because it seems like a 'real' task and is truly challenging.
They develop problem solving abilities which can carry over into real-life situations. Children discuss the rules and safety, enhancing communication and language development.
Those who usually find it hard to conform manage to comply with boundaries as they are so keen to take part. Self-esteem is boosted as children feel pride in their hard-won achievements



For children ages 4 years and older, the benefits and the learning associated with this activity far outweigh the potential for problems, if implemented and supervised correctly. Children (ages 4 and up) should be using real tools. Adults may think of woodwork as too risky – and it is risky. But the learning benefits are great and the risks can be managed. Children actually need risk in play.
"Children who are not exposed to risk nor given opportunities to test their boundaries will be incapable of taking risk", says Henrik Neegard, a Norwegian expert and author on outdoor play in the early years.
"Overprotecting children can produce anxious children who don't know how to deal with their surrounding environment." He goes on to say that educators should take a balanced view on the benefits versus the risk.



So how should we manage risk when allowing young children to engage in woodwork? Close supervision and guidance of children when first using tools will help to avoid injury through misuse. Any children with behavioural difficulties or developmental delay may need ongoing close supervision.
Children can be taught how to avoid hitting their fingers with a hammer by showing them how to hold the hammer, with all fingers wrapped around it, and then to tap lightly at first then move their fingers away as they hit harder.
Children should wear goggles to avoid sawdust in their eyes.

There should be strict rules minimising the number of children at and near the workbench and near it at any time to avoid any accidents from moving tools.
Children should be shown how to use sandpaper to avoid splinters, how to hammer down nails properly to avoid protruding nails, and be informed about why nails should never be removed from the work area.
What we provide
All the necessary woodwork tools, wood and associated materials.
A selection of different projects to suit all age ranges.
Set up time: 30-40 minutes, (we need to arrive at your kindergarten earlier).
Length of lesson: 75-90 minutes plus set up time before.

What the kindergarten needs to provide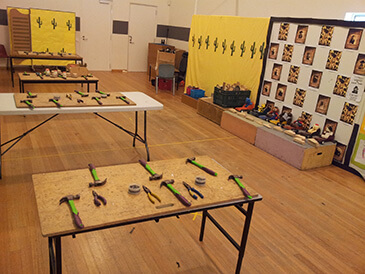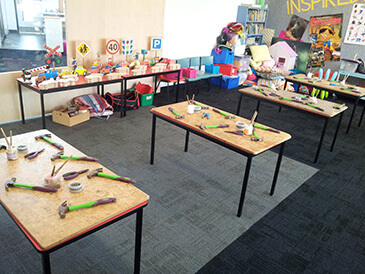 Free parking with easy & close access for the van to unload the equipment.
Room: an empty room (on the ground floor only) for up to 18 children.
Ratio of 1 parent/helper to every 4 children is required
All furniture needs to be cleared prior the workshop.
Minimum bookings - 2 workshops per day essential.

Find detailed information about each workshop, the cost and length of the sessions in the brochure
Workshop Projects:
| | |
| --- | --- |
| Houses | Castles |
| Aeroplanes | Cars |
| Birdhouse | Garage |
| Animals | Magnetic Theatre |
| Helicar | Fairy Tales |
| Bright Ideas | Spaceships |
Special Events Toys:
( 1: 1 supervision required )
4 wheel Cars

Train

Robots

Crane

Clocks

Billy Carts

Formula-1
Woodworking Benefits & Skill-building:
Eye-hand coordination
Dexterity/fine motor
Problem-solving
Role-playing
Creative thinking
Imagination
Independence/self esteem
Stress reliever (pounding)
Matching/classification
Sorting
Comparing/measuring
Textures and properties
Conceptualization
Cooperation
Respect for tools and materials
Increased awareness and understanding of the world around them
Language development

---
How To Make a Booking With Craftpower
Download the latest flier with all available programs.
Read the flier and choose the most suitable program and option for your incursion.
If you are ready to make a booking, choose the most suitable day(s) for your incursion and contact us by phone or e-mail.
If that day(s) is available you will need to fill out the Online Booking Form with all relevant information and submit it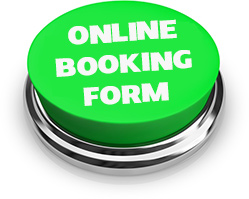 ---
If you have your own tools and nails, you can order Do-It-Yourself Kits from this page:

Also please check our school incursions program here.